4 father's day mason jar gift ideas
We loved all the Mother's Day mason jar gift ideas we shared with you last month, and our mothers were crazy about the twig vases we made them.
Mason jars aren't just for moms though. With Father's Day in less than 2 weeks, we have rounded up 4 of our favorite mason jar gift ideas for dads.
1. hand print mason jar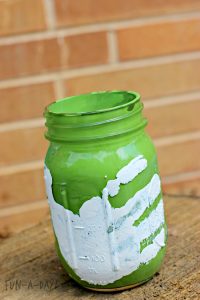 For dads who love having personal mementos of their kids in the office, and for kids who love making craft projects for their daddy's, we love this fun hand print jar from fun-a-day. Dad can keep it on his desk to hold pens, pencils, and scissors.
Tips
We have found that the 16 oz./pint jar is the best height for holding office supplies. We also recommend the smooth sided variety if you have it, so the hand print shows up best.
To prep the jar for maximum paint adhesion, clean the inside with rubbing alcohol just before painting.
For best results, use a special gloss enamel paint like this one from DecoArt which adheres well to glass.
To reinforce the paint, you can follow the drying time by baking the jar at 275 F for 30 minutes with the door cracked open.
2. cocktail shaker mason jar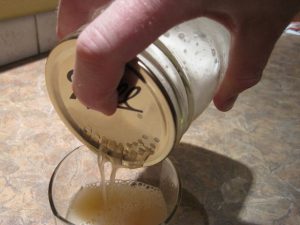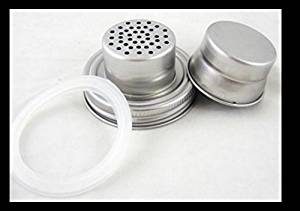 For a dad who enjoys a smooth mixed drink, you can quickly turn a mason jar into a cocktail shaker. No need to find room for an extra kitchen gadget.
If you're handy with a drill, you can make a DIY version, or you can simply get the specialty lid to screw onto a regular mouth jar you already have.
3. mason jar photo holder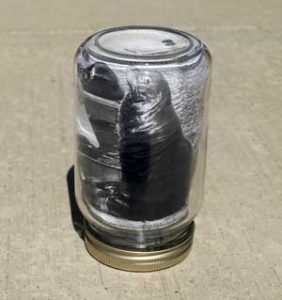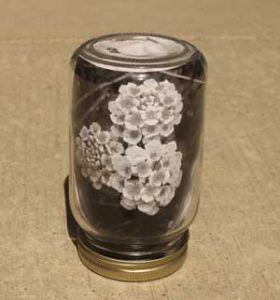 This year, give Dad the gift of family photos for his desk with a unique twist. Swap out a standard photo frame for a mason jar.
Mason jars make perfect photo frames and when you use the smooth sided style, there is room to display two photos in a single jar.
Grab two 4″x6″ portrait orientation (vertical) photos and follow our simple tutorial.
4. leather mason jar drink sleeve
There is something inherently manly about leather, and when that manly leather is coupled with a sturdy mason jar, you have the perfect drink holder.
If you have access to some leather working tools and the ambition to tackle this project, you can actually make a custom leather jar sleeve yourself. We haven't tried it for ourselves, but Josh over at A Beautiful Mess has a tutorial for it and the results are stunning. Dad will be majorly impressed.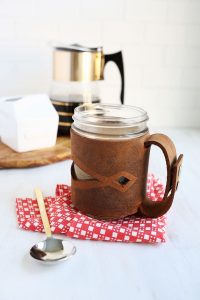 Want to get the look without the DIY? Here are 6 of our favorite purchasable finds ranging from sophisticated classy to hipster quirky.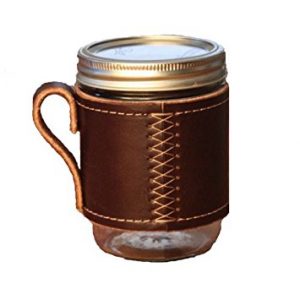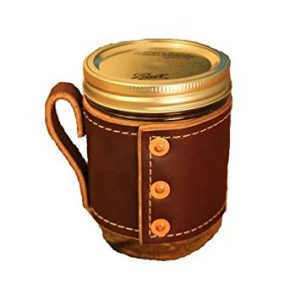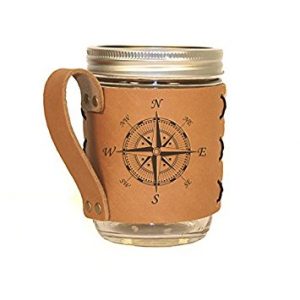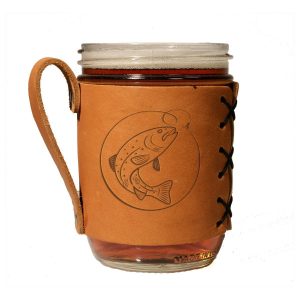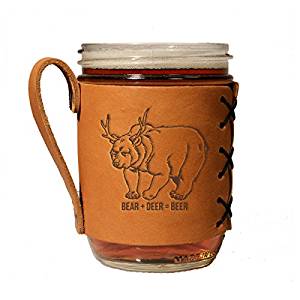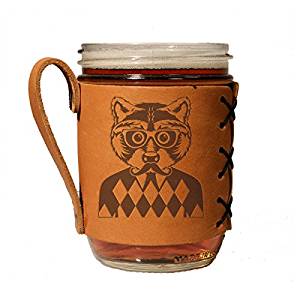 What is your favorite Father's Day mason jar gift idea?
Save