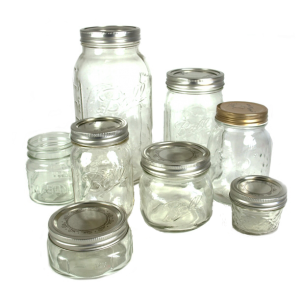 types of mason jars
Whether you call them "mason jars," "canning jars," or "Ball" jars, they come in many different sizes and shapes. Some types of mason jars have brand names and images on them while others feature plain smooth sides or colored glass. The most common mason jar sizes are half-pint, pint, quart, and half-gallon.
Jars are categorized in 2 ways:
Capacity–measured in ounces
Mouth diameter–regular or wide
Regular mouth jars are 2.5″ in diameter while wide mouth jars measure 3″ across. The smallest standard mason jars are 2 ounces and the largest holds one gallon (128 ounces).
Keep reading for a full list of mason jar sizes and uses/ Ready to add new jars to your collection? Click the photos to check out some of our favorite jars.
(Disclaimer: Photos contain affiliate links.)
2 oz. mason jars
The smallest size mason jar is the 2 ounce. These tiny jars are just right for shot glasses, storage, and party favors. Some 2 ounce jars even come with a handle so you can toast with your miniature mug. Two ounce jars are also good for storing facial lotions, serums, and other toiletries.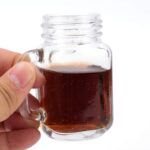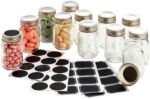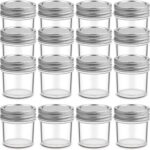 4 oz. / quarter-pint mason jars
A quarter-pint jar holds 4 ounces and is often used for jelly, giving it the nickname "jelly jar." Ball sells a taller, narrower version of the 4 oz. jar that is perfect for storing spices. Crafters like quarter-pint mason jars for storing small items like beads and brides like them for DIY wedding favors. Due to their tiny size, you'll find that most quarter-pint jars come with a regular rather than a wide mouth.
8 oz. / half-pint mason jars
When bottling jam, most canners use half-pint size jars. A half-pint jar holds 8 ounces and is the perfect size for gifting. The most common half-pint jars are the regular mouth, but if you are looking for unique jars, you can also find some short wide-mouth varieties. In addition to jam, half-pint jars are also a nice size for homemade candles, pencil holders, and vases for small flowers.
12 oz. / Three-quarters pint mason jars
Three-quarter pint jars are usually tall and skinny with a regular size mouth. This less-common jar size holds 12 ounces and is a good choice for canning string beans and other long, narrow produce.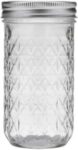 16 oz. / pint mason jars
Pint-sized mason jars are one of the most popular sizes and are easy to find. The 16-ounce capacity is just right for canning homemade salsa, pasta sauces, and fruits. Pint jars are often used for crafting, home decor, and special event centerpieces as well since they are a perfect height for vases. Blue mason jars and purple mason jars are visually stunning choices for holding a bouquet of flowers.
24 oz. / pint-and-a-half mason jars
Pint-and-a-half mason jars are a specialty size and aren't common in stores. They hold 24 ounces and the tall regular mouth version is just right for canning asparagus stalks or pickle spears.
32 oz. / quart mason jars
Quart size jars are one of the most common canning jar sizes and are often used for preserving family-sized batches of sauces, fruits, and vegetables. The 32-ounce size is also excellent for storing lemonade and other beverages in the fridge. Try the wide-mouth version for salads or quinoa salad meals in a jar. Amber colored jars
64 oz. / half-gallon mason jars
Break out the half-gallon mason jar for pickling a jumbo batch of jalapenos or cucumbers. The 64-ounce jars are also fantastic for culturing kombucha or trying your hand at homemade apple cider vinegar. Need a storage container for your flour or sugar? The half-gallon mason jar is up to the task. Half gallon jars are one of the more common mason jar sizes and can be found at most stores as well as online.
128 oz. / gallon mason jars
The largest mason jar is the 128-ounce gallon jar. These jumbo jars are a good size for storing cereal, nuts, and rice, or for placing on a shelf as a decorative item. If your kids are collecting their coins and saving up for a special trip, a gallon mason jar is the perfect storage container.