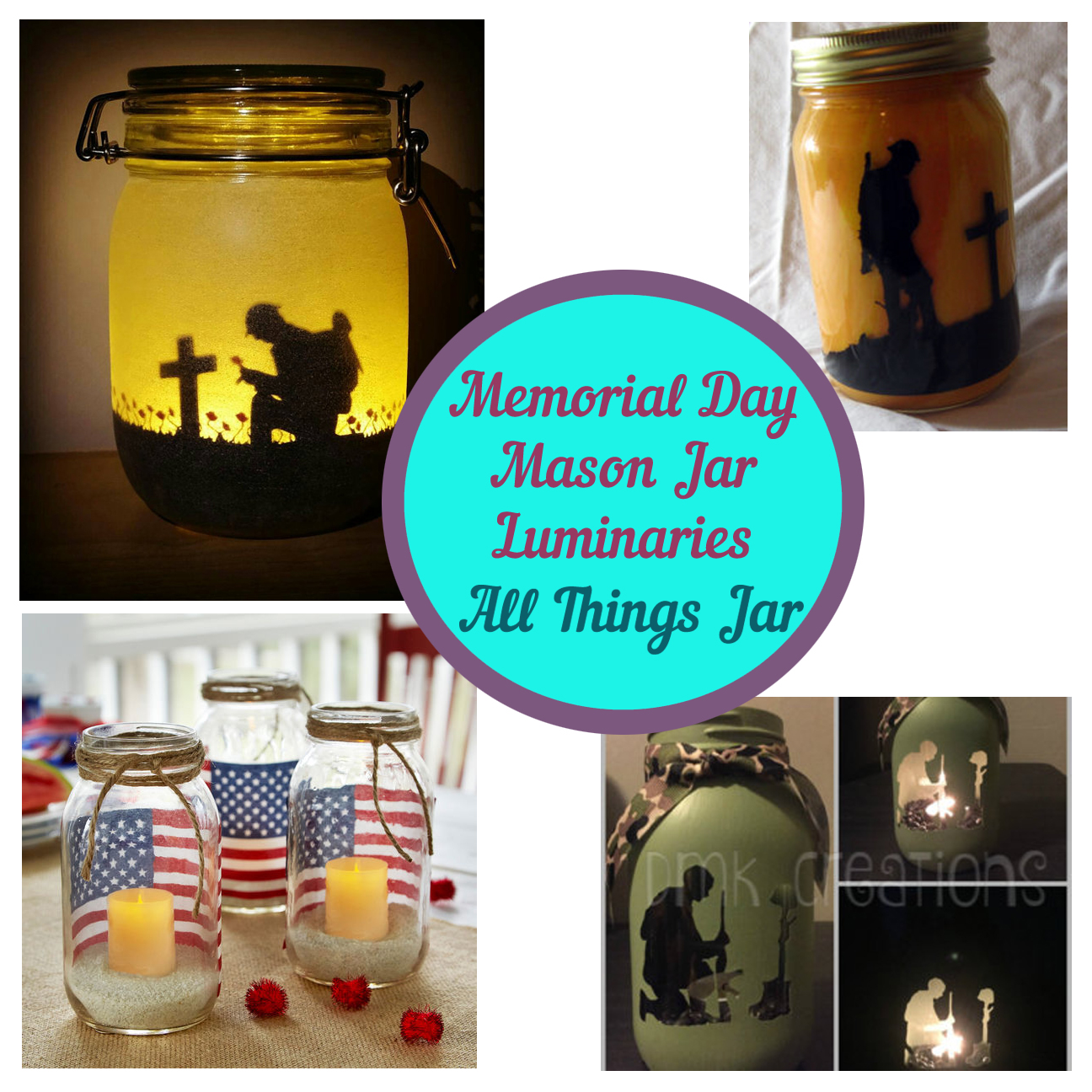 memorial day mason jar luminaries
Memorial Day–a day to pay respect to those who gave the ultimate sacrifice while serving in our armed forces. Each year, this day is a poignant reminder to pause and recognize the bravery and courage it takes to sign a blank check to your country, a check which is payable "up to and including" your life.
It is said of those who have served in the military, "All gave some, and some gave all."
Memorials often involve the lighting of prayer candles or luminaries. For Memorial Day, there may be a soldier you or someone you know is personally remembering or you may simply wish to have a reminder of the reason for this day present in your home. It can serve as a talking point for teaching your children the significance of the day.
In either case, we would like to share with you four military style luminaries which you can make and display not only for Memorial Day, but throughout the year to reflect on our military and their service to us.
If you aren't able to make a luminary jar right now and need to get one pre-made, the first two styles are both available on Etsy.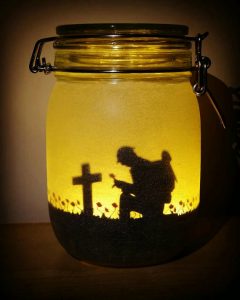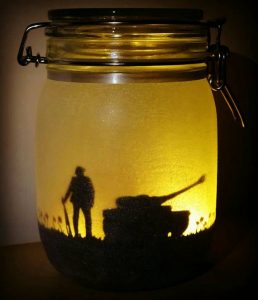 These frosted remembrance jars with their soft silhouette backlighting capture a moment in the life of a soldier. The pre-made ones from crazylittlefoxshops on Etsy depict soldiers among the red poppies of Flanders Field.
To get a similar effect yourself (without attempting the glass etching process), simply get a frosted glass jar with LED solar light already installed. Adhere a black vinyl soldier silhouette decal like this powerful battlecross image (just be sure to request it in black rather than white).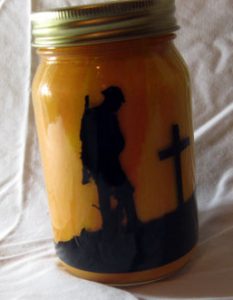 The pictured luminary is available on Etsy from BandEDreamCreations.
You can make a similar version yourself simply by coating the inside of a quart size mason jar with enamel paint and applying a vinyl decal to the outside.
To prep the jar for maximum paint adhesion, clean the inside with rubbing alcohol just before painting.
For best results, use a special gloss enamel paint like this one from DecoArt which adheres well to glass. Pour some paint into the jar and carefully swirl around the inside until it is all coated.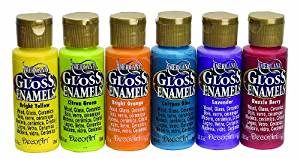 Let any residual paint drain out by placing the jar upside down on a wax paper covered surface. For extra stain protection, use cardboard under the wax paper. Move the jar to a clean portion of the paper every 15-30 minutes and let it keep drying upside down for about 2 hours.
To reinforce the paint, you can follow the 2 hours of drying by baking the jar at 275 F for 30 minutes with the door cracked open.
Once the jar is dry and cooled, wipe the outside with rubbing alcohol, let it dry, and adhere your vinyl decal.
Here are some of the most poignant decals we came across (some come in white or black, so be sure to check that and specify your color choice if there are options):
Add an LED tealight candle to illuminate.
3. fallen soldier mason jar luminary (version 2)


This version of the fallen soldier jar is an inverse of the previous style. While the other version will have a very muted glow, this one will light up the room with a visible candle.
To create, first clean the outside of the jar with rubbing alcohol and adhere your vinyl decal.
Use the same special gloss enamel paint as with the other painted luminary, but this time, you will paint the outside of the jar rather than the inside.
As before, let dry for 2 hours.
Carefully peel the decal back off.
To reinforce the paint, you can bake the jar at 275 F for 30 minutes with the door cracked open.
Place a candle inside the jar to illuminate.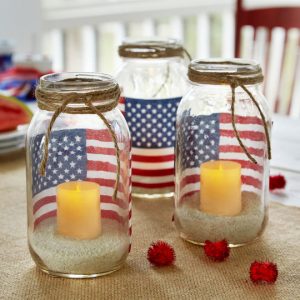 The pictured American flag mason jars are an idea from Michaels.
If you have a personal soldier whose memory you wish to honor this Memorial Day, follow the Michaels tutorial, but replace the flag with a 4″ x 6″ photo of your soldier.
To help the photo show up more clearly, use a smooth sided mason jar and place the photo on the inside rather than the outside of the jar.
Make sure to use LED tealight candles rather than real ones to avoid a fire hazard. Add small personal effects inside the jar to complete your memorial.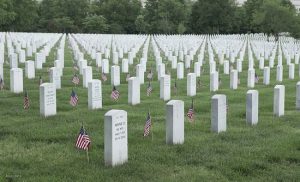 This Memorial Day, while we may enjoy our patriotically decorated homes and a day to spend with family let's all also remember what this day is really for.
Let us honor the incredible sacrifices of those who "gave all" and their families who gave them. Freedom isn't free, but we can be as long as we as a people are willing to fight and pay for that freedom.